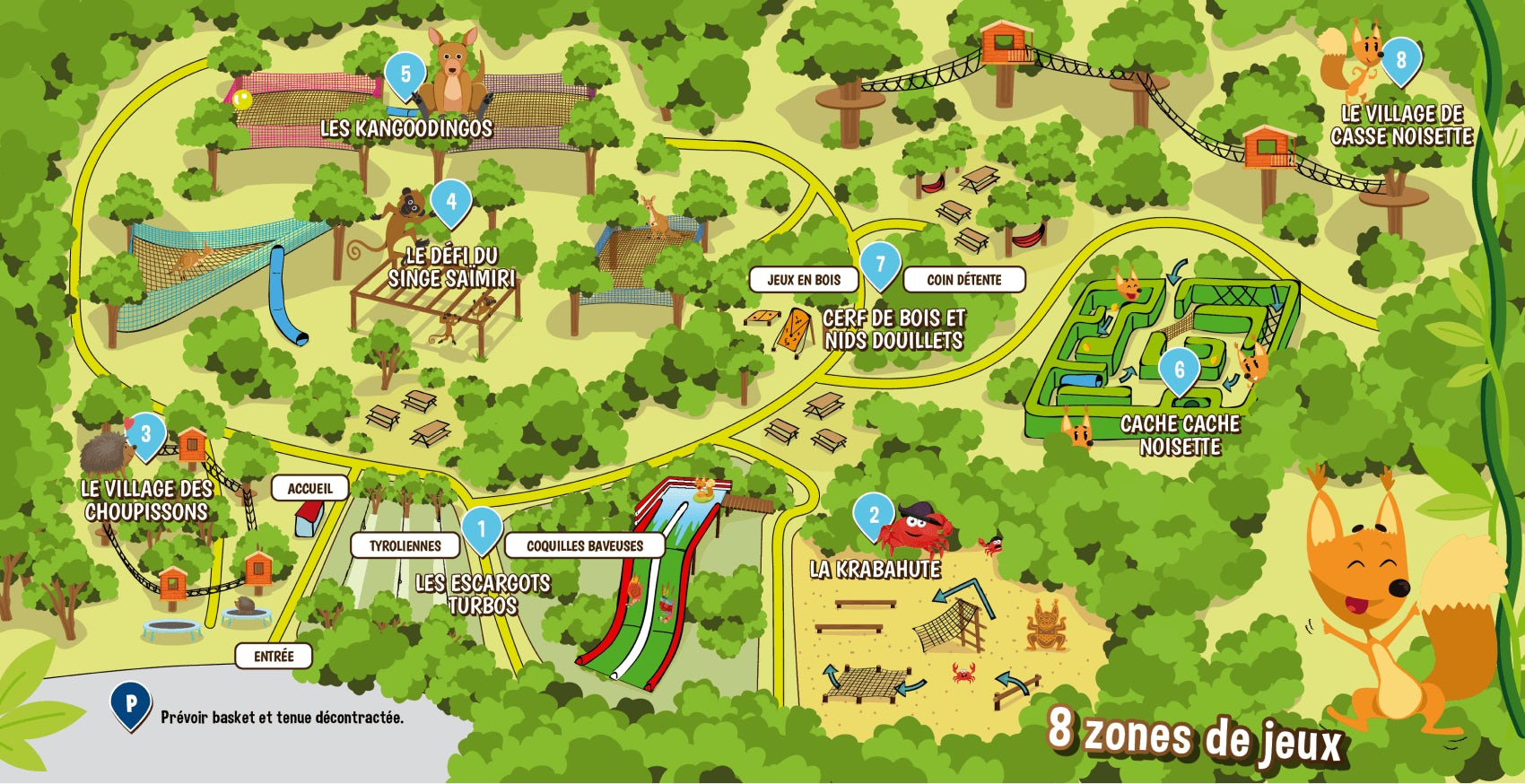 Practical Information
Prices
Accès aux 8 zones de jeux ! Accès au parc gratuit - 3 ans !
Individuel
1 à 3 pers

Famille
4 à 9 pers
Groupe
>10 pers
Pack les 2 parcs *
3-6 ans
10 €
9.50 €
9 €
18 €
7-13 ans
14 €
13.50 €
13 €
28 €
+ 14 ans/Adultes
12 €
11.50 €
11 €
31 €
+ 65 ans
8 €
7.50 €

7 €

27 €
ESCAPE GAME NATURE
SUR RÉSERVATION : MAXI 6 PERS / ÉQUIPE

L'école des sorciers (dès 8 ans) : 60 € la partie
Le secrets des templiers (dès 12 ans) : 64 € la partie
* Parc Casse Noisette + Parc Accroche Aventure
Opening hours
13h30-18h30
10h-19h
13h30-19h
9h-20h
11h-18h
How to come to the parc ?
The parc is located : Chemin de Lafèbre - St Julien de Peyrolas - Gard (30) in the south gate of Ardèche canyon.


Calculate my journey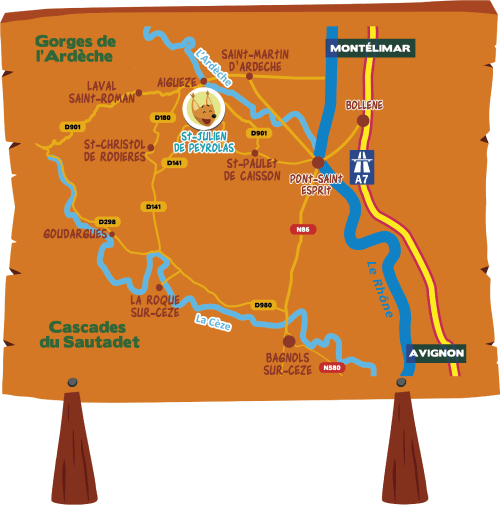 Map of the park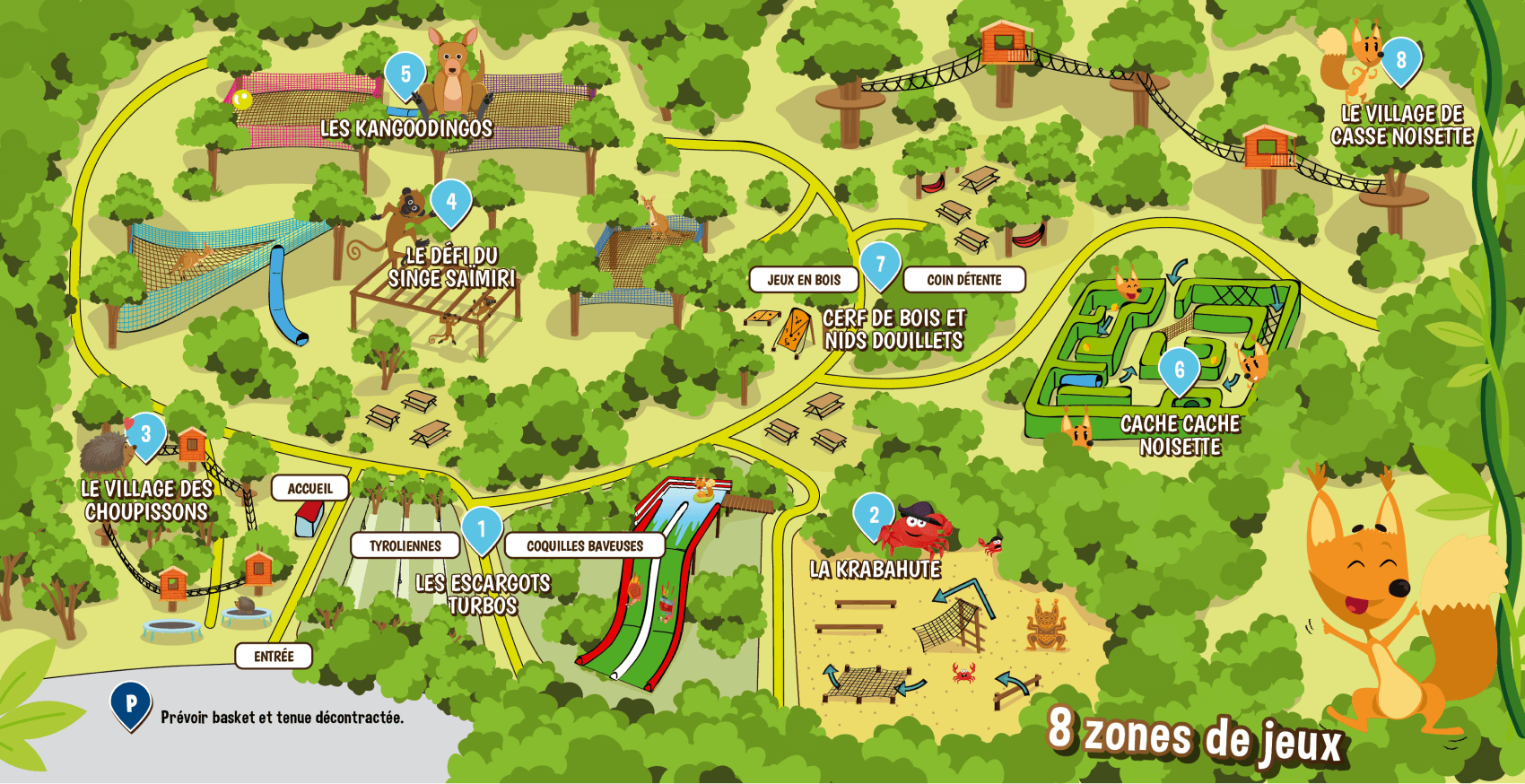 Frequently Asked Questions (FAQ)
From what age is access allowed to Casse Noisette Park?
Children as young as 2 years old can access the park.
How does a typical day unfold?
Adventurers are welcomed, and the park's operation is explained. The different play areas are all freely accessible; you can check them on the park map under the "Practical Information" tab.
Is the activity supervised?
No, you move around the park independently. Ground staff are constantly present on the premises to ensure smooth operation and attend to your specific needs.
What attire is recommended for the park?
Casse Noisette Park is located in a natural environment, so please wear sporty, casual clothing, and closed-toe shoes like sneakers.
Do I need to make a reservation before coming?
It is advisable to reserve your spots before your visit, as this helps manage the flow of adventurers within the park. For certain activities, such as the nature escape game, it is mandatory to book your session in advance to secure the time slot of your choice through our website.
Is it possible to celebrate a birthday or a bachelor/bachelorette party at the park?
You are welcome to celebrate your birthday or bachelor/bachelorette party with your friends at Casse Noisette Park. We offer complimentary entry for the celebrant. We provide a designated area where you can organize your own snacks or picnic. For groups, it is possible to make reservations outside the regular opening hours. Please contact us via email at parc.casse.noisette@gmail.com or by phone at 07 81 14 98 06.
What happens in case of bad weather?
In the event of severe weather conditions, the management reserves the right to interrupt the activity (thunderstorms, heavy rain, or strong winds). If a level orange weather alert is announced, the park will automatically close until the alert is lifted. If you have any doubts, please don't hesitate to contact us at 07 81 14 98 06!
Are pets allowed?
Yes, our four-legged friends are allowed as long as they are kept on a leash.
Is Casse Noisette Park a smoking area?
No, Casse Noisette Park is a non-smoking area.